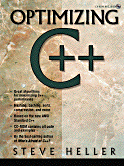 Optimizing C++ - the WWW version
ISBN: 0-13-977430-0
Copyright 1999 by Prentice-Hall PTR
Copyright 2000 by Chrysalis Software Corporation
Return to the table of contents
---
Acknowledgements
I'd like to thank all those readers who have provided feedback on the first two editions of this book, especially those who have posted reviews on Amazon.com; their contributions have made this a better book.
I'd also like to thank Jeff Pepper, my editor at Prentice-Hall, for his support and encouragement. Without him, this third edition would never have been published.
Finally, I would like to express my appreciation to John P. Linderman at AT&T Labs Research for his help with the code in the chapter on sorting immense files.
---
Comment on this book!
Return to the table of contents